Back to Events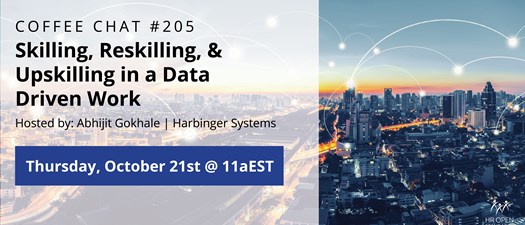 Coffee Chat #205: Skilling, Reskilling, and Upskilling in Data-Driven Work
Thursday, October 21, 2021
11:00 AM - 12:00 PM (EDT)
Event Details
A report from McKinsey stated that almost 90% of executives are experiencing a skills gap or will soon in the future. Typically, any decision made by an organization about people is based on skills. The organization relies on its HR tools and systems to determine how skills and capabilities are to be integrated and consistent across every functional area. Join our discussion to learn how HR technology can help reskilling and share your favorite tools and processes to overcome the skills gap.
Host
Abhijit Gokhale, Software Architect | Harbinger Systems
Abhijit leads the Center of Excellence for HR Tech at Harbinger Systems. He is an active contributor to Architecture Support, Engineering Excellence and Proposal Engineering groups in Harbinger Systems. He has over 11 years of experience in enterprise application design and development in HR Tech and E-learning domains. His core technology expertise lies in Performance, Data Security, System Integrations and Cloud.