Back to Events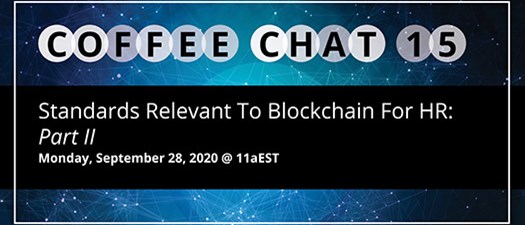 Coffee Chat #15: Standards Relevant to Blockchain for HR: Part II
Monday, September 28, 2020
11:00 AM - 12:00 PM (EDT)
Event Details
Did you attend our first Coffee Chat on Blockchain and Standards?
Join part two of our Coffee Chat to continue the conversation about various standards that are being used by blockchains to implement HR initiatives. Join Rick Barfoot, CTO of Joynd, as he gives a short overview of standards being used to define credentials, how they ensure interoperability in the emerging blockchain for the HR ecosystem, and even how some of these standards may help get the economy going in the current COVID-19 environment. This interactive session is a great opportunity for you to share your opinions and learn from other industry leaders.
Host
Rick Barfoot | Chief Operating Officer, Joynd
In 2000, Rick co-founded Revsolutions Inc. that was acquired by Talemetry. At Talemetry he led product and service teams responsible for building and delivering enterprise-grade cloud solutions that were implemented at hundreds of companies globally. As co-founder and CTO at HRNX, an HR data integration platform company, Rick is responsible for product strategy, design, and development of the next generation of web-based technologies to support the HR market. HRNX merged with CloudMills to become Joynd in 2020.